Service
MACSEI visits their farms and meat processing plants on a regular basis, and strives to offer the best possible products. Organix, Inc. takes care of the importing business and provides products that match their customers' exact needs (from items sold by the case or by the slice.)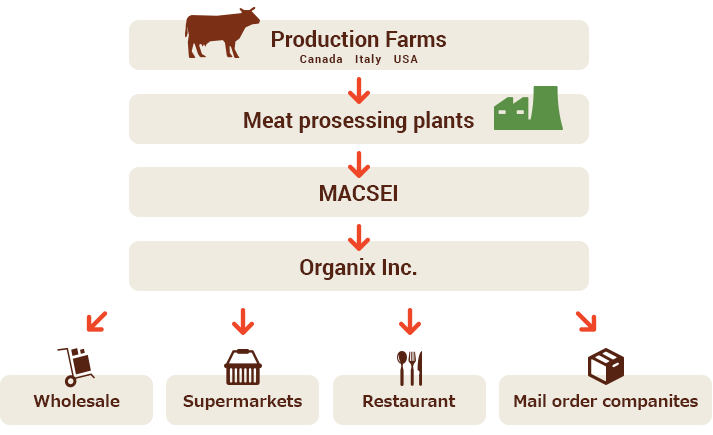 Importing meat
Canadian brand Sunterra Farms

Canada is gifted with abundant nature, particularly its clean air and pure water from the Rocky Mountains. The SPF natural pork(specific pathogen free)is fed mainly with barley that contains neither chemicals nor additives. It has a consistent management system starting from production to slaughtering, processing to shipment, and delivers to Japan and Korea. We constantly seek the best in every aspect, such as improvement of black pigs to lessen the animal odor, introduction of Japanese-style cutting, ruling out slaughtering until the carcass is below 2 degrees centigrade to preserve freshness, and maintenance of room temperature below 4 degrees centigrade at all times within the factory.

The secret of maintaining the best quality amongst the meat produced in Canada and having long-term support from loyal customers in Japan and Korea may be due to the above reasons. We have also started the production of new free range pork, which has attained a sterling reputation in the Japanese market.

Italian brand FrigoGel, Castelfrigo

This is an exceptionally unique meat processing plants that specializes in belly.  This factory uses just the back rib of pork proprietary to Italy that is raised in Modena of northern Italy for the production of uncured ham (prosciutto). This pork with delicious fat that Japanese people favor is delivered to dining tables as a totally new product that exceeds their expectations.

American brand Becker Lane Organic

Organic Berkshire pig that is quite difficult to produce in Japan is produced in USA under Japanese specifications and is delivered on a regular basis. The pigs are fed with 100% organic-certified soybeans and corn that the farmers themselves produce, and the healthy pigs are pastured in the fertile land of Iowa state. Fulfilling the requirements of the strict National Organic Program that the USDA (Department of Agriculture) stipulates, they are certified as Organic Berkshire Pork.