Sunterra Farms Alberta, Canada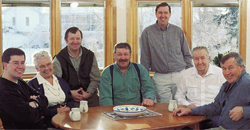 Founded by the Price family in 1970, they are representative in Canada as a stockbreeding trader. They handle approximately 12,000 pigs and use various species and combination of pigs under a consistent management structure for breed improvement, reproduction, fostering and animal food development to ensure that the products are relevant to consumer demand.
From the Berkshire type pork that is most popular amongst Japanese people, to a new type of black pork that has removed the animal odor as much as possible, to the Blackline species that has been improved with its soft and edible texture that elderly people can enjoy, all pork are matched up with the MIC standard for the Japanese and Korean markets.
Trace has been recorded from the very start in 1993, and we are confident in our quality. 45,000 livestock have been recorded in detail to suit the requests of our consumers as much as possible. Sunterra Meats, Sunterra Market and Feedlot also belong to the Sunterra Group.
http://www.sunterrameats.ca
http://www.sunterrafarms.ca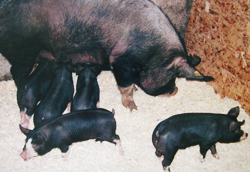 They produce SPF natural pork (Specific Pathogen Free) that is raised with organic philosophy like ours. Sunterra Farm is located in the great Canadian prairie with abundant nature, where clean and beautiful air and pure water from the Rocky Mountains are readily accessible. As proven by its thorough production management, starting from the farm until the final product, the pig-raising technology that the Price family has been cultivating over three generations maximizes quality.
1. All-Natural Animal Food
Animal foods centering on barley with no chemicals or additives are produced at the Sunterra farm and supplied to the pigs, leading to the production of pork with the best quality meat to match the preferences of Japanese people.
2. Comprehensive Hygienic Management
Under the thorough hygienic management at their own HACCP Certified factory with the latest facilities, butchery and Japanese-style cutting are carried out. These supreme quality meats that pass the CFIA (Canada Food Inspection Agency) inspection are shipped to the Japanese market. Of note, Sunterra Meats won the Canadian Agri-Food Award of Excellence.